DoBeny's new miniature, low cost,high performance infrared sensor IRT-1200A is best used for measuring metals . Infrared High Temperature Sensor IRT-1200A is suitable for measuring the processing temperature of aluminum solution, aluminum material, aluminum ingot, aluminum and other metals such as copper, iron, stainless steel, etc.
DoBeny's family of infrared non-contact sensors have no drift and have high repeatability & interchangeability giving them the edge needed to increase production process speed and quality.
Infrared High Temperature Sensor-Metal A series Best for measuring high temperature metals(Foundry,Sinter Plant,Blast Furnace,Continuous CastingProcessing,Forging,Metal Packaging ,High Temp Heat Treating,Hot Forming Steel Panels ,High Precision Heat Treatment in Vacuum Carburizing,High Temperature Vacuum Heat Treatment,Fasteners Heat Treatment - Hydrogen Embrittlement,Hot Rolling Mills,Tube and Pipe Mills,Rod and Wire Mills,Galvanizing and Annealing Lines,Aluminum Brazing ,Aluminum Processing,Aluminum Solution Reheat)
· non-contact
· Output: 4 to 20 mA
· interface directly to most of all meters, controllers, dataloggers
· Fast Response 5ms with High Stability
· Optional Air/Water Cooled Housing, Air Purge Collar, Laser Sighting Tool and Mounting Brackets
General Specifications
Model:IRT-1200A
Temperature Range: 300~1200℃ (See To Order chart )
Supply Voltage: 24 VDC
Output: 4 to 20 mA
Field of View: 30:1
Accuracy: ±1%, (when environment temperature is 23±5℃)*
Repeatability: ±1%
Response Time: 5ms
Spectral Range: 0.1~18μm
Construction: Stainless Steel 304
Dimensions: ø18 x length107 mm
Mounting: two mounting nuts
Cable Length: 2m as standard (custom lengths also available)
Weight: 400g with 2 m(7') cable
Environmental Rating: IP65
Ambient Temperature Operating Range: 0 to 50°C (32 to 122°F)
4-wire , 3-wire or 2-wire
The Infrared Temperature Sensor can calculate the surface temperature of an object by measuring intensity of infrared radiation emitted by target without any contact with the target. Non-contact temperature measurement is the greatest advantage of Infrared Temperature Sensor which allows user to easily measure temperature of target which is difficult to approach or is moving.
Infrared Temperature Sensor IRT-1200A is an integrated device which integrating sensor, optical system and electronic circuit inside a stainless steel shell; IRT-1200A is easy to install, standard thread on its metal shell can easily connect with installation part; meanwhile, IRT-1200A has various types of components for selection (including blower, installation support, adjustable installation support and blower protection jacket) to meet requirements of different work conditions.
Maximum distance and size of measurement point
Size of measurement target and optical features of infrared thermodetector determine maximum distance between measurement target and measurement head. To prevent measurement error, the measurement target should fill field of view of probe as much as possible. Therefore, always keep measurement point smaller than measurement object or at least the same size as measurement target.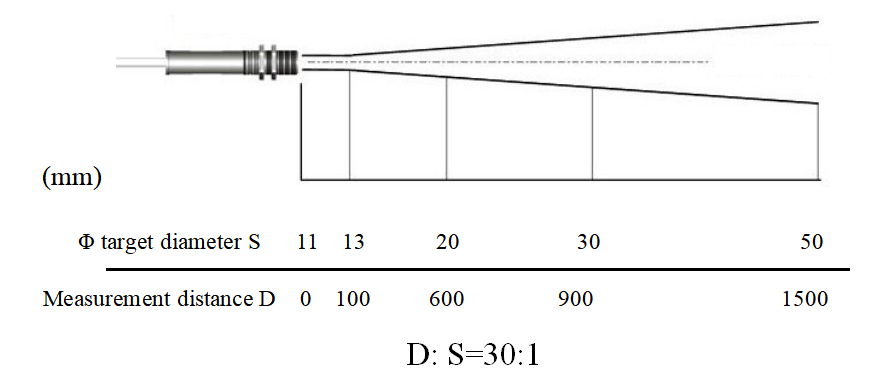 When adjust measurement target and measurement head, ensure that optical path is barrier free, as shown below: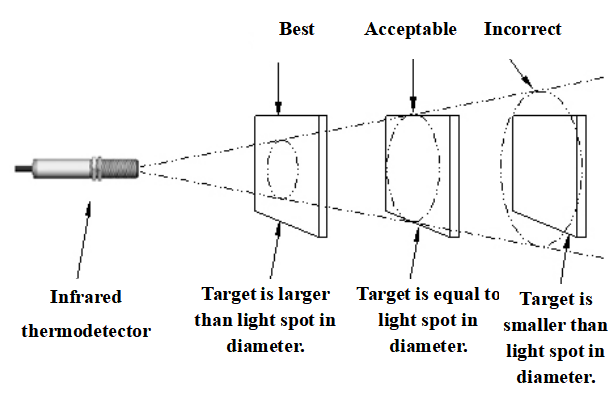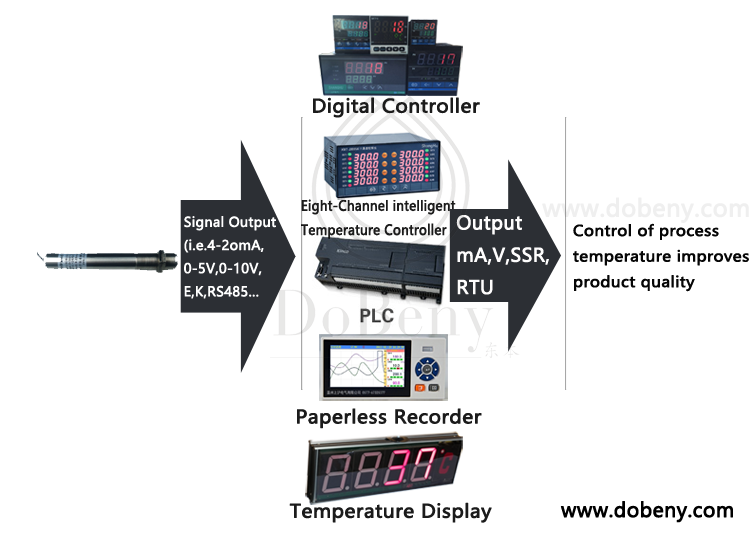 Ordering information IRT(Field of View)-(Pre-Calibrated Temperature Range)A-Cable Length.
Ordering Examples: IRT20-1200A-02,Field of View:20:1, 300 to 1200°C, 2m
To Order

Model No.

Description

IRT[*]-[**]A-[***]

Infrared High Temperature Senor-Metal A Series

Field of View [*] Select

20

20:1

30

30:1

80

5 mm diameter at 100 mm (1⁄5" at 4")

Temperature Range [**] Select

800

300 to 800°C

1000

300 to 1000°C

1200

300 to 1200°C

1800

400 to 1800°C

2000

400 to 2000°C

2800

400 to 2800°C

3000

400 to 3000°C

Cable Length [***] Select

02

2m(7')

05

5 m (16')
Technical Experts at Your Service Call 86-18257343661 from 8 AM—5 PM China for applications and technical support, or email dobeny@126.com, you will have a response within 24 hours.